FREQUENTLY ASKED QUESTIONS
What does Topaz Email and Form Tracking do?
Topaz Email and Form Tracking is a service that lets you organize and process all the web site requests and emails that come to your Sales or Support center. Email and Form tracking can increase the efficiency of your customer support, improve accuracy, reduce human errors and save time and money. In a sales environment it can help you be the first vendor to respond to the customer which, eighty percent of the time, leads to the sale. Please read more about our Email and Form Tracking below.
How is Email and Form Tracking different from Email Response Management (ERM)?
ERM focuses on standard email where users type as much or as little as they want. Form Tracking, on the other hand, places greater emphasis on web forms. Web forms ensure that each customer request contains all the information needed to satisfy the request. The name of the form can be used to automatically and accurately categorize each request.
The Topaz Form Tracking system manages regular email as well but it emphasizes web forms for their greater efficency.
Categorizing requests is only the beginning of the Topaz process. Topaz Email and Form Tracking allows you to assign requests to a service agent. The service agent can revise the request, add company-only data and generate personalized, editable emails. All changes are recorded for audit purposes and highlighted on the form for easy identification. Reporting features allow supervisors, in real time, to measure and manage the entire process. Data is automatically archived for later analysis to determine trends.
How does Topaz Form Tracking work?
When a visitor to your web site completes a Topaz web form, the information is immediately stored in a database and is instantly available to your service or sales people using our web enabled application. This eliminates lost or delayed emails as well as 'spam' emails. As your employees process each request, the Topaz Form Tracking software lets them edit and update the forms and helps them by generating editable, personalized emails and by tracking every change made to the form. Managers appreciate the built-in activity reports that let them measure and manage the entire process.
What about messages from fellow employees?
Topaz provides a secure web page that looks like a blank email but is actually a Topaz form. The employee fills it in, clicks 'Send' and the information is instantly stored in the database and available to service agents. But because the employee selects a subject from a dropdown on the 'email', the system can accurately and automatically categorize and route the message.
What about customers who don't use a form on our web site but who send us regular email at support@company.com?
No problem. Topaz can collect a copy of every email that arrives at support@company.com (or the address you specify). Our Form Tracking system automatically scans the email, stores the contents in the database and makes it immediately available through our web enabled interface. Depending on the email system, there may be a delay of a few minutes from the time the sender clicks 'Send' until your service agents can see the request.
Topaz collects a copy of the email - you continue to receive the original email to your inbox or mail server. There is no loss of control over your email.
What are some other benefits of Topaz web forms compared to regular web forms or email?
When visitors fill in a Topaz web form, they perform the data entry for you. Your service agents, rather than spending time rekeying in data, instead review, assess, revise and manage the form and consequently are more accurate, efficient and enthusiastic. The information arrives instantly so there is no chance for delayed or lost email. The service representative can view, edit, comment and revise the request. Personalized, editable email responses can be generated from the data in the form.
Here is a specific example. A visitor to the web site of an electric utility fills in a form requesting new service. Within seconds, the service agent sees the request, and using the information from the form, verifies the service address, completes a credit check, determines the deposit amount required and gets the new customer's account number. The service agent edits the form to enter the deposit amount and account number. Then by clicking a button, the agent generates a welcome email that contains the customer's data including name, address, account number and deposit amount. And, while it is not a standard feature, Topaz can transfer the form information to your legacy computer systems so it doesn't have to be retyped.
If web forms are so great, why don't more Response Management vendors recommend them?
Traditionally the design and creation of customized web forms has been very labor intensive and costly. Designing web forms becomes a unique solution for each customer. Most ERM vendors are focused on a one-size-fits-all approach which doesn't allow for customized solutions. The Topaz system allows us to quickly design and implement customized forms for your web site and, at the same time, create screens for your agents to display, print, email, edit and manage the form data. Due to our unique programming techniques we can create custom forms and agent screens in minutes. It is this capablility that sets us apart from our competition.
Customers instinctively know that a web form will result in a faster and better response. Our experience has shown that when a web site has a large variety of web forms then users self select the proper form and that very few requests arrive via regular email. Because we can create forms quickly and easily, you now can afford to have a multitude of web forms that cover any topic for which a customer would have a request.
What are other features of Email and Form Tracking?
No lost requests due to lost email or misspelled email addresses.
No delays due to email outages.
Forms can easily be organized, processed, managed, and measured.
Forms can be viewed in a browser from any internet connection.
Email responses are automatically created, to be approved by the service agent before clicking 'Send'.
A complete audit trail automatically records every change to every field, which agent made the change and when it was made.
Every form change is highlighted on the screen.
We collect sensitve data such as SSNs, birth dates and DL numbers. How secure is your system?
Here are some of our security features that we use to protect sensitive data:
The Tracking System is password protected.
We use SSL to encrypt data that travels between your computers and our server.
Sensitive information, such as SSN numbers, is encrypted in the Topaz database.
The Form Tracking system can restrict access by IP address.
Ssensitive data can be erased when it is no longer required, leaving other data available for analytical purposes.
Each of our client's data is stored in a separate database.
Each of our clients have their own subdomain with their own source code folder.
What equipment do we need?
If you can read this then you have all the equipment you need - a computer with a modern browser than can view web pages.
How long will it take to implement?
Less than 30 days.
How do the forms get installed? What are the design limitations? What is the form layout?
You can see some sample web forms here. (Click to enlarge.)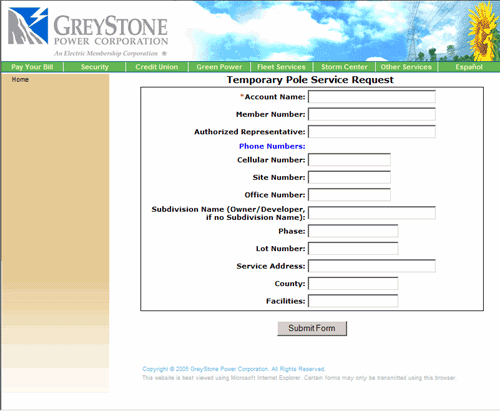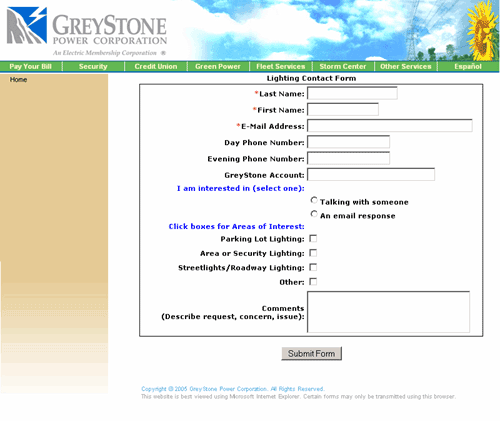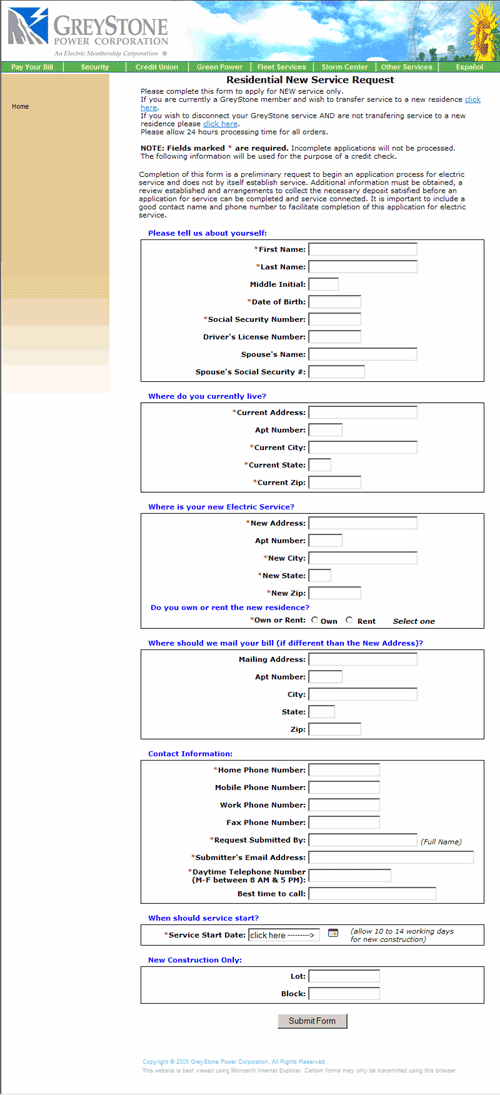 The forms, which are static HTML, are designed in a single column and can contain text boxes, text areas, radio buttons, check boxes, drop down lists and an interactive calendar (with blackout dates you specify) for date fields. We prefer that the rest of the page be a static design that can be reused for each web form.
Can we download the email and form data from the Topaz database?
The data is yours. You own it, you can download it whenever you wish. You can download to Excel or delimited text format.