FREQUENTLY ASKED QUESTIONS
What is Topaz?
Topaz is a communications platform designed specifically for an electric cooperative's Member Services department. Topaz encourages your members (both existing and potential) to contact you online and helps you organize, manage, and respond to those messages.
Topaz collects all your online communications-emails, web form submissions, faxes, text messages, even social media comments-and provides employees with a suite of powerful tools to help them manage everything in one place.
Why is moving customer contact online so important?
Electric cooperatives can realize several important benefits by incentivizing members to communicate via the internet instead of the phone or in-person:
First, you're responding to member demand by providing a convenient and ubiquitous method of communication. Instead of limiting contact to 9-5 on weekdays, members can contact you from a variety of devices at any time.
Second, you reduce the load on your call center. Responses to electronic communications can be spread throughout the day, whereas phone calls require immediate attention. And because online requests take less time to respond to than phone calls, you can shorten reply times and handle customer demands more efficiently.
Third, you gain the ability to track and organize requests. Topaz maintains an audit trail of every change or communication involved in an issue, so supervisors can easily view each online interaction and its history.
How does Topaz incentivize members to contact us online?
Online communication is growing rapidly as a preferred method of contact, but there are still problems to be overcome.
Many users don't trust that their email will reach the person they need (and there's always a chance that it fails to send, or goes unnoticed once it arrives).
Members also often fail to include all the necessary information relating to their issue, resulting in a call-back by a member services rep. This is inefficient and cumbersome for both the rep and the member.
Topaz solves these problems by providing your website with a variety of special web forms that can be customized to fit just about any situation, like new service requests, job applications, or seminar registrations.
When members arrive at your website, they'll see that you anticipated their needs by providing forms tailored to their specific situation, and will be much more likely to use them.
What's so special about Topaz web forms?
There's a lot to love about Topaz forms:
-Our form knowledge and expertise allows us to create forms quickly (usually within 24 hours), and at a fraction of the price of normal forms. Our customers use over 100 different forms for a variety of issues, both internal and external.
-As opposed to a standard "Contact Us" form, with Topaz forms the user inputs the exact information needed to solve the issue. This greatly reduces the need for a call-back and eliminates the need for data re-entry, saving service reps countless hours of effort.
-Unlike most web forms, Topaz doesn't just forward emails containing the form's contents. Upon user submission, the information in a Topaz form is immediately encrypted and stored securely in our database, where it can be accessed only by authorized Topaz users. Unlike emails, Topaz form information can never be lost or delayed.
-Topaz forms are simple and easy to use: the user doesn't have to worry about creating an account, or remembering logins or passwords.
-Topaz forms can use special features (like e-signatures and document upload capabilities) in order to replace your paper agreements and contracts. There's no need for members to print/sign/scan/fax/email/snail mail; they can simply fill in their information and sign and date the form from their computer, phone or tablet.
-Topaz forms can be modified to work with your billing system in order to facilitate online payments via checking account, credit card or PayPal.
What about communications other than web forms?
Topaz can collect a copy of every email that arrives at support@company.com (or whichever address you specify). Our system automatically scans the email, stores the contents in the database and makes it immediately available to authorized employees through our web-enabled interface.
Topaz only collects a copy of the email - you continue to receive the original email to your inbox or mail server. There is no loss of control over your email.
For intra-office communication, Topaz provides a secure web page that looks like a blank email but is actually a Topaz form. The employee fills it in, clicks 'Send' and the information is instantly stored in the database and available to other service agents. Because the employee selects a subject from a dropdown on the 'email', the system can accurately and automatically categorize and route the message.
Faxes, text messages, and social media comments from Facebook and Twitter aren't used nearly as often as web forms or email, but Topaz can easily collect and organize them as well, giving you complete control over all your online communications.
How does Topaz help me manage these online communications?
As a web-based service, Topaz doesn't require any special software or complex installations. Authorized employees simply login to the Topaz website, where they'll find a variety of workflow management and issue-tracking tools to help them organize and respond to all their online communications:
-An easy-to-use, intuitive interface lets service reps respond to messages using email, fax, or text message as appropriate. Topaz can route incoming messages to the appropriate employee based on rules you give us, so the message always reaches its intended recipient.
-Custom email templates allow service reps to respond to common queries with just two clicks of a mouse. These templates can be easily generated for a variety of scenarios, and can insert information from the Topaz database (like names, addresses, or phone numbers) directly into the email. Topaz can automatically generate customized emails for multiple people at a time, so communicating with hundreds of people takes no longer than communicating with a single person.
-Topaz's audit trail system keeps a record of each interaction within a specific communication. Employees can easily view previous correspondences and the time/date on which they were sent or received. With our innovative Journal View, all correspondences can be viewed in chronological order, regardless of message type or origin.
-Personalized PDF letters and mailing labels can be quickly created en masse, with the option to either print or save for future use.
-Dashboard reports let supervisors easily view both new and pending requests grouped by issue type and employee assignment. Summaries are available for the day, week, month, and year, and can be downloaded to Excel for further analysis.
-Advanced search features allow users to search through and filter forms using a variety of different fields, like names, dates, addresses, or phone numbers. The results can then be sorted and grouped according to preference.
We collect sensitve data such as SSNs, birth dates and DL numbers. How secure is your system?
Topaz adheres to the Federal Trade Commission's Red Flag Guidelines for processing identity information. Our system uses the following features, among others, to provide superior data security and protection:
-The Topaz system is password and IP address protected. That is, service reps can access Topaz only from designated computers on specific networks by logging in with a user name and password.
-We use 128-bit SSL encryption to encode data as it is transmitted over the internet between your computers and the Topaz server.
-Sensitive information is encrypted in the Topaz database, meaning that even if someone were to gain access to the database, the data would be undecipherable. This data can be erased when it is no longer required, while leaving other non-sensitive data available for analytical purposes. The database is backed up daily for additional security.
-Each of our client's data is stored in a separate database, and each client has their own subdomain with their own source code folder.
What equipment does Topaz require?
If you can read this then you have all the equipment you need - a computer with a modern browser that can view web pages.
How long will Topaz take to implement?
Less than 30 days. We've designed the system based on how electric cooperatives operate, so employee training is simple and takes a few hours at most.
How do the forms get installed? What are the design limitations? What is the form layout?
The forms, which are static HTML, are designed in a single column and can contain text boxes, text areas, radio buttons, check boxes, drop down lists and an interactive calendar (with blackout dates you specify) for date fields. We prefer that the rest of the page be a static design that can be reused for each web form.
You can see some sample web forms here. (Click to enlarge.)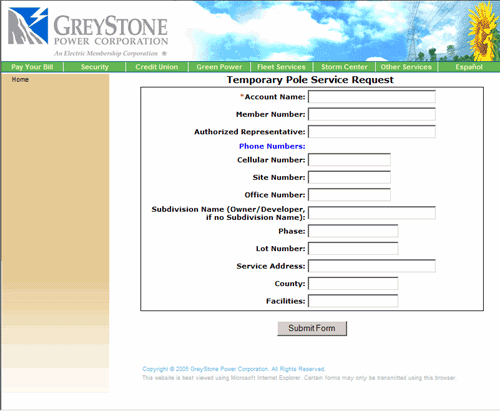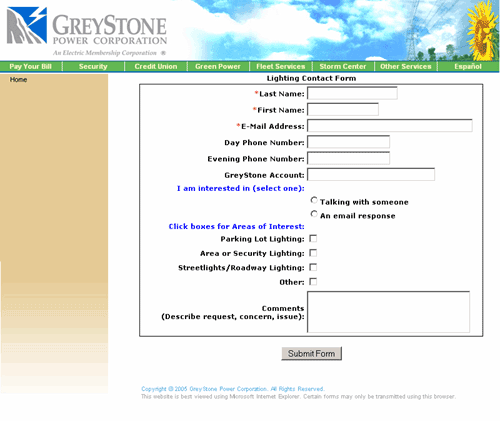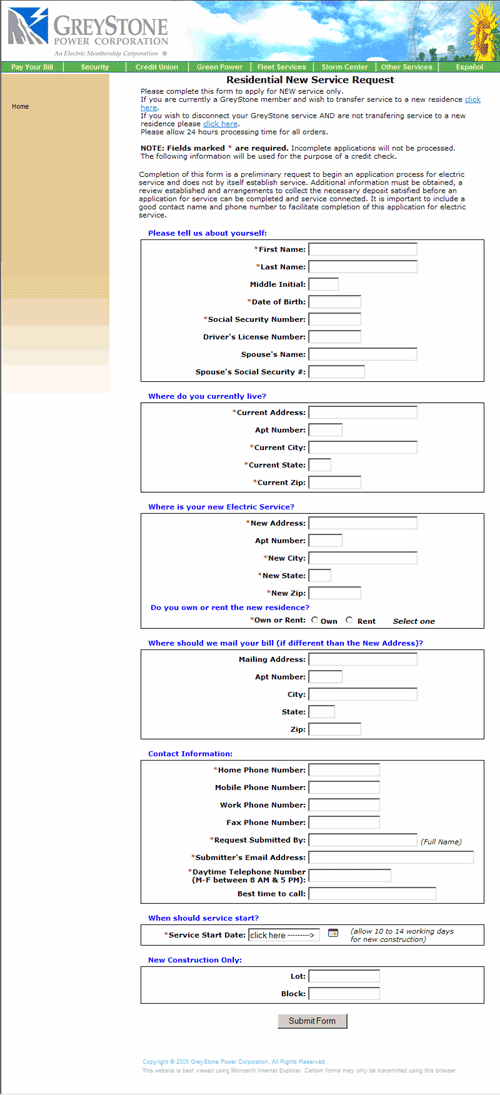 Can we download the email and form data from the Topaz database?
The data is yours. You own it, you can download it whenever you wish. You can download to Excel or delimited text format.